10 Shows To Hear This October on WVIA Radio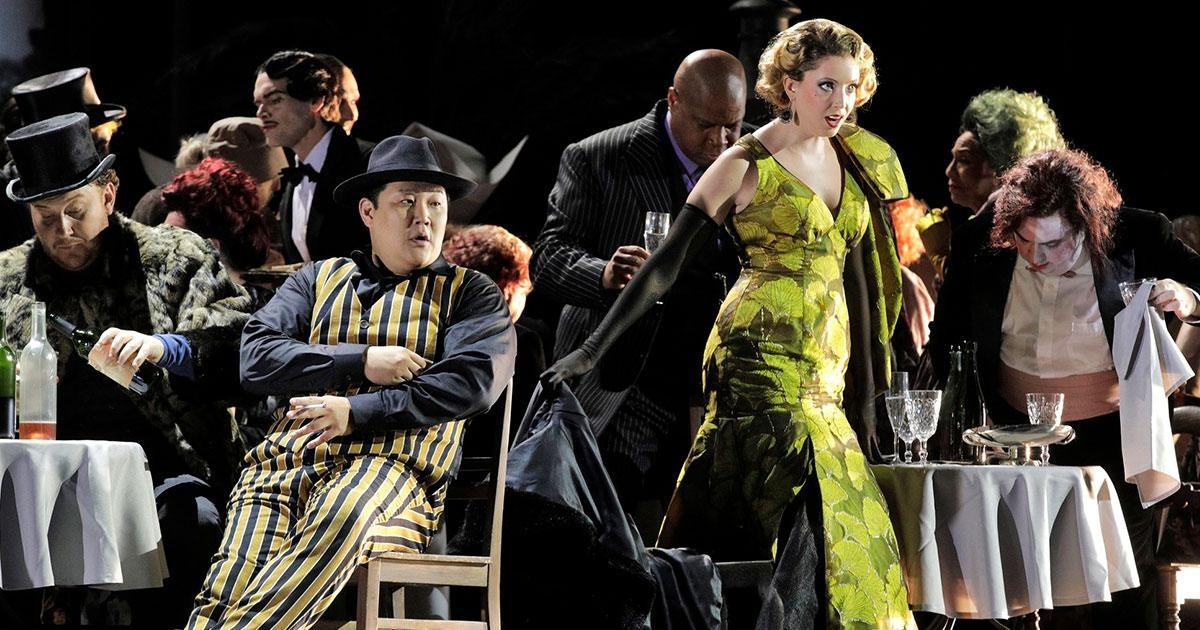 WVIA Radio Highlights
Check out the WVIA Radio Highlights for October 2021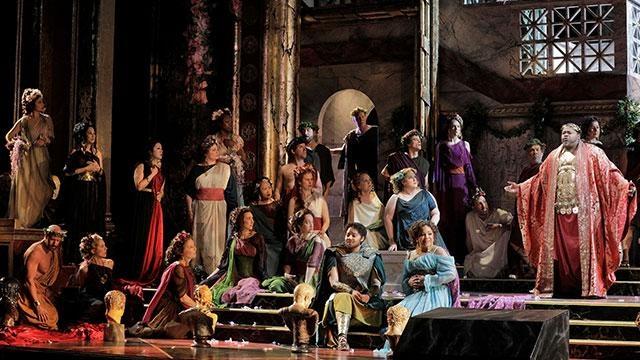 La Clemenza di Tito - W.A. Mozart
Saturday, October 2nd, 1pm
Mozart takes us to Rome in the first century A.D. The empire is the most powerful civilization in the world. And yet even this greatest of capitals falls vulnerable to power players seeking glory. In a plight to keep his crown and save the city he loves, Emperor Titus is faced with the ultimate choice between mercy or murder. (The title might just possibly give his decision away.)
Mozart wrote La Clemenza di Tito in the final months of his life. Unable to resist a lucrative last-minute commission, he completed Titus in just a few weeks, taking a break from his nearly-finished score for The Magic Flute to do so. The opera premiered on September 6, 1791, as part of the celebrations for the coronation of Leopold II in Prague; Mozart died just three months later.
In this production, tenor Russell Thomas sings the role of Emperor Titus. He has enjoyed a strong presence in Los Angeles in recent seasons, appearing with LA Opera as Pollione in Norma (2015) and Cavaradossi in Tosca (2017), and with the LA Philharmonic in Mahler's Das Lied von der Erde (2018) and in the title role in a concert performance of Otello at the Hollywood Bowl (2018). Later this year, he'll perform his first highly anticipated stage performances as Otello with Canadian Opera Company and Washington National Opera.
Soprano Guanqun Yu sings the role of Vitellia and mezzo-soprano Elizabeth DeShong is Sesto. Both artists return for the first time since their 2015 debut appearances in LA Opera's "Figaro Trilogy."
Soprano Janai Brugger, an alumna of LA Opera's Domingo-Colburn-Stein Young Artist Program, returns as Servilia. Mezzo-soprano Taylor Raven, a current member of that program, appears as Annio and bass James Creswell, a former Resident Artist with the company, returns as Publio.

San Francisco Symphony
Sunday, October 3, 2pm
Michael Tilson Thomas conducts Schumann's "Rhenish" Symphony, the Serenade No. 2 of Johannes Brahms and music of John Adams: I Still Dance, a work described by San Francisco Chronicle:
"This eight-minute curtain-raiser … unleashes a fireball of forward momentum that only pauses to draw breath in the eerie fade of the piece's final measures."
"It's irresistible as a whirlwind of dark orchestral sound."
"The music exerts a churning, irresistible pull. It's a tribute to both the continuing fecundity of Adams' creative imagination and to Thomas' ability to bring out the composer's best.
In addition, the remarkable pianist Danil Trifonov is featured in Rachmaninoff's Piano Concerto No. 4.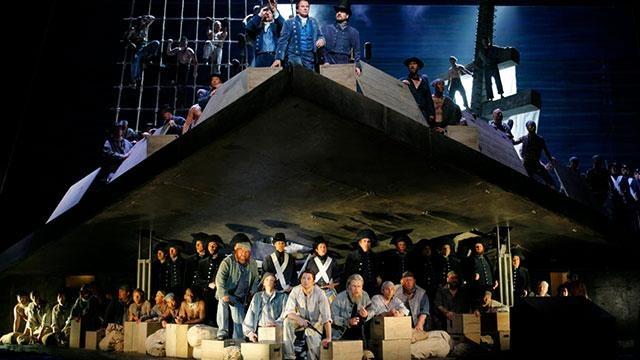 Billy Budd - Benjamin Britten
Saturday, October 9th, 1pm
Prepare for an operatic adventure on the high seas.
Based on the novella by Herman Melville, Benjamin Britten's maritime masterpiece follows an innocent naval recruit who joins the crew of the H.M.S. Indomitable, helmed by a noble captain. But one commanding officer's dark desires cause a tragic turn of events for the beloved young sailor...and himself.
James Conlon conducts a stellar cast led by Liam Bonner, Richard Croft and Greer Grimsley.
Britten's operatic treatment of Billy Budd premiered at the Royal Opera House on December 1, 1951. It was a triumph with the audience, receiving 15 curtain calls. The libretto was constructed by novelist E. M. Forster and Eric Crozier. It was Forster who suggested the project to Britten. Britten's mastery of writing for both orchestra and voice is on ample display throughout the score. Notable for its all-male cast, the opera offers a plum role for baritones. Among them: Sir Thomas Allen, Sir Simon Keenlyside, Nathan Gunn, Bo Skovhus, Thomas Hampson, Peter Mattei, and Liam Bonner. Billy Budd is now considered one of the finest operas created in the post-World War II years.

Pittsburgh Symphony - Favorites
Sunday, October 10th, 2pm
The season opens with a program of classical favorites:
SMETANA: "Dance of the Comedians" from The Bartered Bride
SMETANA: Polka from The Bartered Bride
ADAMS: The Chairman Dances
CHABRIER: Espana
SHOSTAKOVICH: Suite for Variety Orchestra, No. 1
SAINT-SAENS: Aquarium, from The Carnival of the Animals
TCHAIKOVKSY: Sugar Plum Fairy, from The Nutcracker
BERNSTEIN: America from West Side Story
GERSHWIN: Rhapsody in Blue
Manfred Honeck, conductor; Lang Lang, piano; Maxim Lando, piano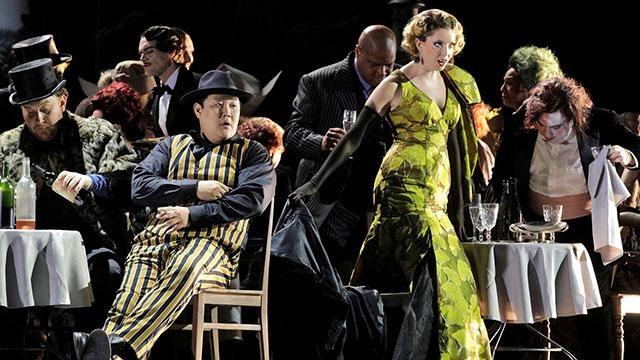 La Boheme - Giacomo Puccini
Saturday, October 16, 1pm
It's 19th-century Paris, a world capital filled with bustling cafes, bold ideas and creative energy. Six struggling young artists dream of making it big and finding their perfect matches. Along the way, they learn to celebrate life for all that it's worth.
A perennial audience favorite since its 1896 premiere, La Bohème sings to the romantic in all of us. It remains one of the most beloved and most frequently performed of all operas.
Two gorgeous young international stars appear as the tragic lovers: soprano Marina Costa-Jackson in her LAO debut as Mimì and tenor Saimir Pirgu as Rodolfo. The cast also includes baritone Kihun Yoon as Marcello and bass-baritone Nicholas Brownlee as Colline; both are alumni of LAO's Domingo-Colburn-Stein Young Artist Program. Three current members of that program are also featured: soprano Erica Petrocelli as Musetta, baritone Michael J. Hawk as Schaunard and tenor Robert Stahley (in his LAO debut) as Parpignol. Bass-baritone Patrick Blackwell completes the cast as Alcindoro.
Pittsburgh Symphony - Virtuosity
Sunday, October 17th, 2pm
Maestro Manfred Honeck welcomes the electrifying British piano virtuoso Benjamin Grosvenor as soloist in the Piano Concerto No. 2 of Beethoven. Two orchestral showpieces round out the program, displaying the phenomenal virtuosity of the ensemble: Prokofiev's Symphony No. 5 and Sinfonietta of Leos Janacek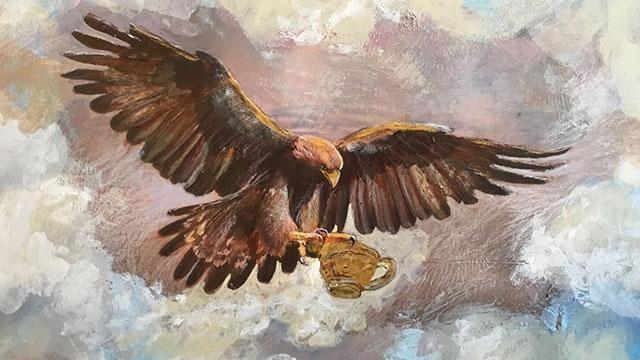 Orlando - George Frederic Handel
Saturday, October 23, 1pm
Handel's astonishing theatrical sensibility turned Ariosto's epic Orlando Furioso into an operatic tour-de-force, exploring themes of heroism, love, and insanity through experimental musico-dramatic forms considered cutting-edge at its 1732 premiere.
The story: The warrior knight Orlando is madly in love with Angelica, Princess of Cathay. Angelica and the shepherdess Dorinda both love Prince Medoro. Deception and chaos reign. Can the sorcerer Zoroastro, benevolent guardian of Orlando, save the day?
Plunging us into a medieval world of chivalry and sorcery, Bejun Mehta leads this production with his iconic and visceral interpretation of this conflicted anti-hero. Sounding more exciting than ever, Mehta's deep understanding of the character electrifies this production as Orlando's battle plays out in his own psyche.
Emily Fons returns to the company following her lauded performance in the title role of Haymarket's 2018 production of Cesti's L'Orontea. Kimberly Jones, David Govertsen, and Erica Schuller round out the cast.
Haymarket Opera Company inspires a culturally vibrant community and diversifies the artistic landscape of Chicago and the Midwest through the presentation of historically informed opera and oratorio from the Age of Enlightenment.
Haymarket Opera Company takes its name from both Chicago's Haymarket Affair of 1886 which gave focus to the world-wide labor movement, and from the King's Theatre in the Haymarket District of London where Handel produced his Italian operas.
For 9 seasons HOC has been enriching the musical community of Chicago and the Midwest with performances of 17th- and 18th-century operas and oratorios using period instruments and historically informed staging conventions. HOC debuted with Handel's Aci, Galatea e Polifemo in 2011, and has since given 17 operatic productions and numerous concert performances. The company has received glowing reviews in the Chicago Tribune, Italy's L'Opera, Opera News, and Early Music America. The New York Times praised HOC's "finely played, carefully sung, lovingly detailed period performance."

Pittsburgh Symphony - Great No. 2s
Sunday, October 24, 2pm
Two great 2nds are featured this week. The sumptuous, expansive Symphony No. 2 of Rachmaninoff and Chopin's poetic Piano Concerto No. 2 featuring soloist Yulianna Avdeeva. Christoph Konig, conducts
La fille du regiment (The Daughter of the Regiment) - Gaetano Donizetti
Saturday, October 30, 1pm
WVIA takes you around the world and our travels stop in The Maribor Slovene National Theatre (SNG Maribor) in northeastern Slovenia. Its performances of drama, opera, and ballet annually attract the country's largest theatrical audiences.
The Slovene National Opera's production of Donizetti's comedic two-act masterpiece La fille du regiment features Petya Ivanova in the role of Marie and Martin Sušnik in the role of Tonio, with support from Irena Petkova as the Marquise of Berkenfield and others. Simon Robinson conducts the SNG Maribor Symphony and Chorus.
Donizetti's comic romp, La fille du regiment, remains one of the most popular of comic opera. Our soprano, Marie, has been raised by a French army regiment and so each soldier treats her like a daughter. Enter Tonio, a peasant, upon laying his eyes on Marie joins the regiment to be near her, and eventually wins her heart, and demonstrates his bravery.
Pittsburgh Symphony - From Noble to Raucous
Sunday, October 31st, 2pm
Sir Mark Elder conducts two late Romantic gems: the sober and probing Symphony No. 1 of Sir Edward Elgar and the rambunctious, energetic tone poem by Richard Strauss, Till Eulenspiegel's Merry Pranks. Also featured Tchaikovsky's tip-of-the-hat to the 18th century, the Variations on a Rococo Theme featuring the principal cellist of the Pittsburgh Symphony Orchestra, Anne Martindale Williams.