Reflecting on tragedy, 10 years later
Editor's note: ATC Host/Multi-Media Journalist Sarah Scinto grew up in Connecticut, not far from Sandy Hook Elementary School. This is a personal essay reflecting how covering the tragedy there at the beginning of her career has informed many of the decisions she makes in news-gathering today.
It's the Sunday morning after Thanksgiving. I am home visiting my family near Newtown, Connecticut for the holiday, standing before a memorial that took ten years to create.
I'm not sure who started leaving pebbles on the 26 stones etched with the names of the 20 children and six adults lost at Sandy Hook Elementary School 10 years ago today, December 14th, 2012. Maybe whoever made the stacks of rocks that were sitting at the end of the entry path was the first to scoop up a handful of pebbles from the gardens and place them, one by one, on each smooth stone surrounding a calm pool of water.
It's chilly on this day - cloudy and grey - and the trees surrounding the memorial pool and the one at its center are mostly bare. Still, you can tell the leaves and blossoms will be beautiful come the spring.
This memorial has only been open for a few weeks. It took years of work, designs and permits to get this right. It's not far from the new Sandy Hook Elementary School, tucked away with only a small stone marker visible from the road. After everything Newtown has endured in these 10 years, I think it's better that way.
The week before Thanksgiving this year, six people were killed in a Walmart break room in Virginia. Just days before that, five people died in a shooting at a club in Colorado Springs. And earlier this year, Uvalde, Texas was left wading through a similar sea of grief that many in or from the Newtown area can't help but be reminded of each time the words "mass shooting" appear on TV screens.
The Newtown Bee is the hometown newspaper. It's where I earned my first-ever bylines. The weekly Editorial Ink Drops section this week notes that those outside the Newtown community, "save for those who were here then," may only spare a thought for Newtown on this date, or when Sandy Hook is mentioned in the aftermath of yet another mass shooting.
Maybe that is understandable. It's easier to think of a place as a point in history, or a data point on a chart of gun violence in the U.S., when you weren't as close to the center of all that happened that day.
As reporter Davis Dunavan told me, none of us who covered Newtown in the days, weeks and months following Dec. 14, 2012 were anywhere close to the "top tier" of those affected by the shooting.
But many of us, Dunavan and The Newtown Bee staff included, were the ones who stayed, hoping to pick up some of the pieces as we waited for the staggering onslaught of national media to move on.
So even as the years have ticked by, I haven't stopped thinking of the families and the community impacted by that day. As I stood in front of the memorial pool, I did exactly what the designers of it intended. I took some extra time to remember.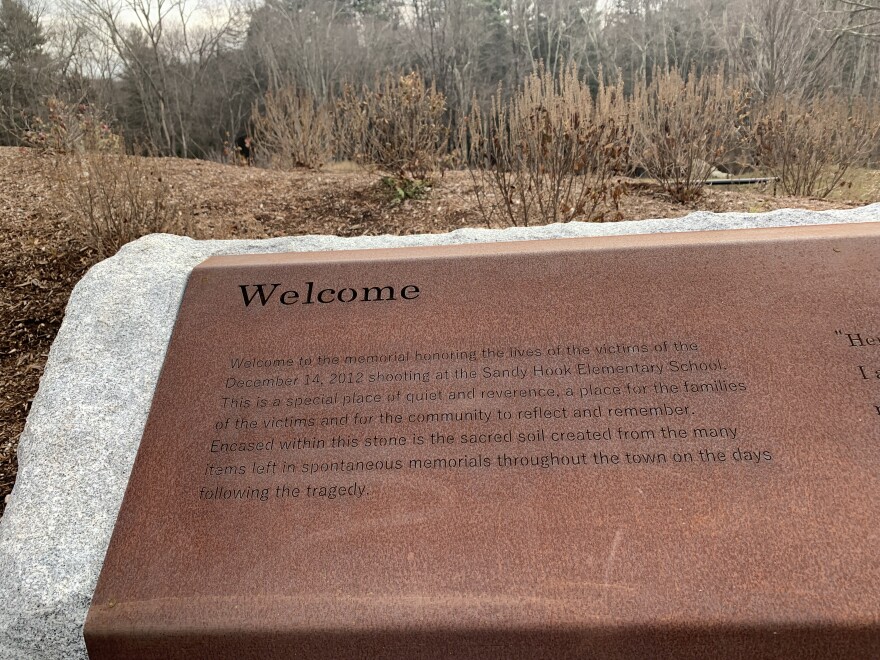 Here's what I'm thinking about today, 10 years on.
I'm thinking about how the children who survived aren't small children anymore. They're in high school or college, and they've grown up watching what happened to them happen to more and more communities every year. They've grown up watching the families of their classmates inconceivably harassed by those who still deny what happened.
I'm thinking about the day I showed up at the offices of the Newtown Bee with a box of donut holes and a meager offer of help, only to see the piles of food and flowers on the desk I had used during my internship that summer. Some of the offerings had been sent from colleagues at other newspapers around the country.
I tried to help cover all that happened in those days, from makeshift memorials and teddy bear collections to a candlelight vigil held just days before Christmas.
We had to show ourselves worthy of the community's trust by telling their stories fully. Others, in a rush to get updates first after they had parachuted into town, had caused unintended harm by sharing incorrect or insensitive information, or disrupted people's lives as they tried to heal.
The community felt besieged, and we watched as many outlets disseminated what many felt to be incomplete or inaccurate portrayals of the town. Then they left, but some of those portrayals were all people outside of the community would see.
Since then I've tried to remember how that felt when approaching a difficult story. If more of us can learn to be people first, reporters second, I wonder how much trust we could reestablish.
I know there are people who would question why I would write about this and people who wonder why anyone should still be talking about something that happened ten years ago.
I decided to ask those questions of others who are still in Connecticut.
Davis Dunavan is a reporter with WSHU now. That's the NPR affiliate in Westport, Connecticut. But in 2012 he was just starting out at an online news outlet and was assigned to cover Newtown just weeks before December 14. He recently released a podcast called Still Newtown, made in collaboration with The Newtown Bee, to show what the community looks like now.
He spoke with dozens of people for the 11-episode podcast and says while some people may not want to talk about the shooting anymore, there are still more who feel their story hasn't been told well yet.
"Let's make sure that the people who have been most affected by this are never silenced, and always have a chance to speak when they wish to," he said.
He said the title, Still Newtown, came from a desire to show the resilience of those impacted and the community of 30,000 people.
"The story is one of a town that has gone through something, has held together, has kept going, has been hurt," he said. "I keep thinking about that idea of… things may never be exactly like they were, but you keep going."
I hope sharing some memories here adds to that story. I also hope it adds another voice to what has been told and retold over the past 10 years, despite many who choose not to believe it.
—
There will be prayer services in Newtown today, like there have been every year.
The Resiliency Center of Newtown will be open to offer support. The governor of Connecticut has ordered flags to fly at half mast.
The families of the victims asked The Newtown Bee to share the website mysandyhookfamily.org, where the names of their loved ones link to their stories and, in many cases, causes their families have championed in their names.
I can't be there today, but I'll be thinking about Newtown all the same.
On the Sunday morning after Thanksgiving, I scooped up a handful of pebbles.
They felt smooth, just like the stones surrounding the memorial pool.
A small offering like this can never erase the magnitude of loss. It can't heal an invisible wound.
But whoever started this custom probably hoped it would send a message. They might have sent a prayer into the world with each one they placed, or they might have imagined the person behind each name and thought "I remember you."
Under gray, cloudy skies, I placed them one by one, near clusters of other pebbles on each stone bearing the names of those lost ten years ago today.