Wilkes-Barre Committee to restore centuries-old landmark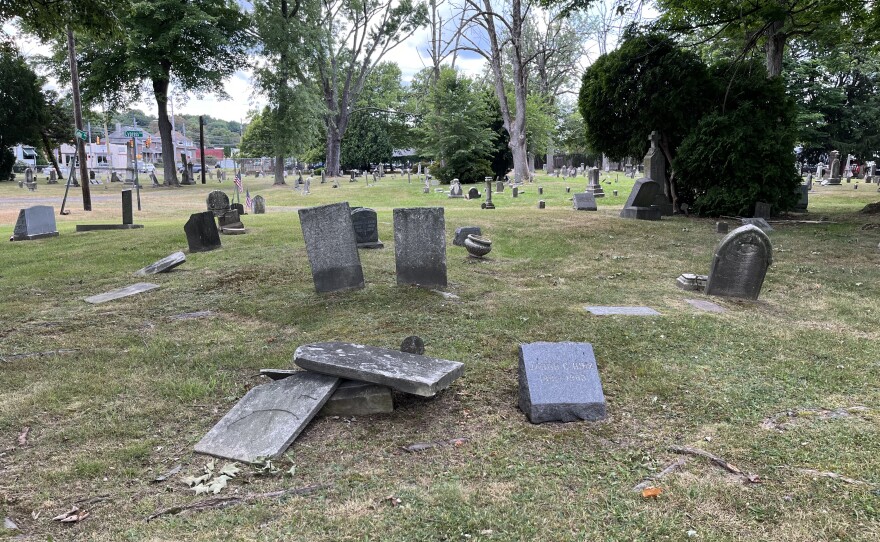 Toppled over headstones in the Wilkes-Barre City Cemetery on North River Street.
Wilkes-Barre City Cemetery on North River Street.
In existence since the late 1700s, the Wilkes-Barre City Cemetery and those buried there have a long history in the region.
To honor that past and ensure its future, Wilkes-Barre Mayor George Brown formed a Cemetery Beautification Committee in May. The committee has begun the process to restore the burial grounds on North River Street along with 16,000 graves, making it once again a vibrant park.
"It's being done out of respect for those that served our country but also the family members that come in and visit," said Brown. "We have to show them that we respect those people, and that they can come to a place where the headstone might have been dislodged in the past, and now it's affixed back where it should be and it's taken care of. It's more of a benefit to the people that go into that cemetery, whether they're visitors from out of town or local people that have relatives in there."
This spring, WVIA news met at the cemetery with committee members, including Bill Lewis, Commissioner of the Pennsylvania Historical Museum Commission; Joan Cavanaugh and Greg Griffin.
Don Crane and Lou Zuzelski are both retired and restore graves throughout the region. They are also serving on the committee.
Cavanaugh is a city resident. She's known for helping families and historians find gravestones in the region through findagrave.com. Cavanaugh said veterans from the Civil War are buried in the cemetery along with those who fought in the Pennimite-Yankee wars, battles in the late 1700s fought along the Susquehanna River between settlers from Connecticut and Pennsylvania. Brown added that there are also several African American Civil War veterans buried in the cemetery.
"Depending on the donations we get, there's a lot of down headstones and I'd like to see them get repaired and get that fixed, clean up the headstones and make it more presentable for people that walk in and walk through," said Cavanaugh.
The cemetery is owned by the city. It was once located on the grounds of City Hall. It was moved to its current location in the 1850s during the Victorian Era when many cemeteries are moved out of city centers and into the countryside, said Wilkes-Barre Councilman Tony Brooks.
"That's my hope is that people will see this history," added Cavanaugh.
The city is partnering with the Luzerne Foundation to raise money to restore the cemetery. Donations can be made online at www.luzfdn.org/donations/wilkes-barre-cemetery-beautification-fund/